My Blog
Posts for: February, 2018
By Cinamon & Hubley, D.M.D.
February 13, 2018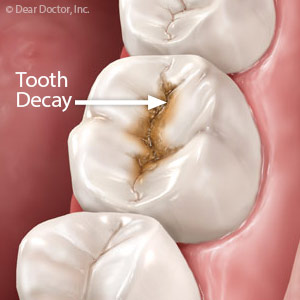 Families of children with chronic conditions face many challenges. One that often takes a back seat to other pressing needs is the prevention of tooth decay. But although difficult, it still deserves caregivers' attention because of the dental disease's potential long-term impact on oral health.
Chronically ill children are often at higher risk for tooth decay, most commonly due to challenges in practicing effective oral hygiene. Some conditions create severe physical, mental or behavioral impairments in children's ability to brush and floss: for example, they may have a heightened gag reflex to toothpaste in their mouth or they may not be able to physically perform these tasks on their own.
Some children may be taking medications that inhibit salivary flow as a side effect. Saliva is critical for disease prevention because it both neutralizes mouth acid (which can erode tooth enamel) and is a first line of defense against disease-causing bacteria. And a child's diet, while designed to support treatment of their chronic condition, may conversely not be the best for supporting their dental health.
It's best if caregivers and their dentists develop a strategy for decay prevention, which should include the following:
Regular dental visits beginning at Age One. Besides monitoring dental health, dental visits also provide cleanings and other preventive measures like topical fluoride or sealants;
Brushing and flossing support. Depending on a child's physical and mental capacities, caregivers (or an older sibling) may need to model brushing and flossing, or perform the tasks for the child;
Medication and diet changes. If medications are causing dry mouth, caregivers can speak to their physicians about possible alternatives; likewise, they should see if modifications can be made to their diet to better support dental health.
Boosting salivary flow. It's especially important with children who have dry mouth to drink more water or use aids (like xylitol gum or candies) to boost salivary flow.
Although it requires extra effort and time to give attention to a chronically ill child's dental health, it's well worth it. By working to prevent tooth decay early in life, these children will be more likely to enjoy good dental health in the future.
If you would like more information on dental care for children with special needs, please contact us or schedule an appointment for a consultation. You can also learn more about this topic by reading the Dear Doctor article "Managing Tooth Decay in Children with Chronic Diseases."
By Cinamon & Hubley, D.M.D.
February 06, 2018
Tooth decay plagues most people in the United States and children in particular, because the enamel on newly erupted molars is not as
hard as that of adult teeth. As such, youngsters get more cavities on their back teeth. Your Framingham, MA, dentists, Dr. Paul Hubley and Dr. James Cinamon, often advise coating young back teeth with plastic sealants. Could your child benefit from this easy preventive service from Cinamon & Hubley Cosmetic & Restorative Dentistry?
Where cavities happen
Tooth decay occurs where food particles collect. Plaque and tartar happen in between teeth, at the gum line and also on teeth which are deeply grooved and pitted, such as molars. Molars are created for the hard work of chewing, and so their topmost surfaces are uneven--the perfect collection point for bacteria-laden plaque and tartar. In fact, more than 40 percent of tooth decay in young children happens to molars.
Preventing tooth decay
Your Framingham dentist advocates diligent oral hygiene practices at home beginning in babyhood. That means Mom and Dad brush and floss their children's teeth until they are old enough to do so themselves. Also, Dr. Cinamon and Dr. Hubley ask parents to bring youngsters to the office for routine check-ups starting when the first baby erupts and every six months thereafter just like other family members.
In addition, a low-carb and low-sugar diet reduces plaque and tartar formation and the acids given off by oral bacteria. Children should drink water throughout the day and not sugary sodas or sports drinks.
The role of dental sealants
For extra protection against pediatric tooth decay, your Framingham dentists frequently employ clear plastic sealants. These painted on coatings effectively seal back teeth for as long as ten years, making them very cavity-resistant.
If your child would benefit from sealants, Dr. Cinamon or Dr. Hubley will apply them in just one short dental visit. The hygienist cleans and dries the teeth first. Then, the doctor applies an etching liquid to the chewing surfaces, followed by the sealant itself. A final hardening by a special blue light finishes the process.
Thinking about sealants?
Why not ask your Framingham, MA, dentist about them the next time you bring your child to Cinamon & Hubley Cosmetic & Restorative Dentistry? The doctor will explain the process so you understand the benefits of this modern preventive service. Call the office for an appointment at (508) 872-1422.